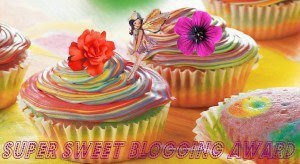 Here are the rules for accepting this delightfully delicious award, my Super Sweet Friends:
1. Thank the Super Sweet Blogger that nominated you.
2. Answer 5 Super Sweet questions.
3. Include the Super Sweet Blogging Award in your blog post.
4. Nominate a bakers's dozen (13) other deserving bloggers.
6. Notify your Super Sweet nominees on their blog.
I'd like to send a huge, THANK YOU to my incredible, gifted, amazing friend, Janice Spina for nominating me for the Super Sweet Award! It's a tremendous honor to receive this award. I appreciate this award so much! Everyone who isn't familiar with Janice's website, should check out www.jemsbooks.wordpress.com. You
'll love it!
Here are my nominees:
The Super Sweet Questions:
1. Cookies or Cake? -It's a tricky choice, but I think cake wins.
2. Chocolate or Vanilla? -chocolate, every time!
3. Favorite Sweet Treat? -cheese cake
4. When Do You crave Sweet Things The Most?-probably when they're in the house! D
5. Sweet Nick Name? -can't think of one, sorry
Congratulations and best wishes to all of my nominees! Wishing you an amazing 2014!